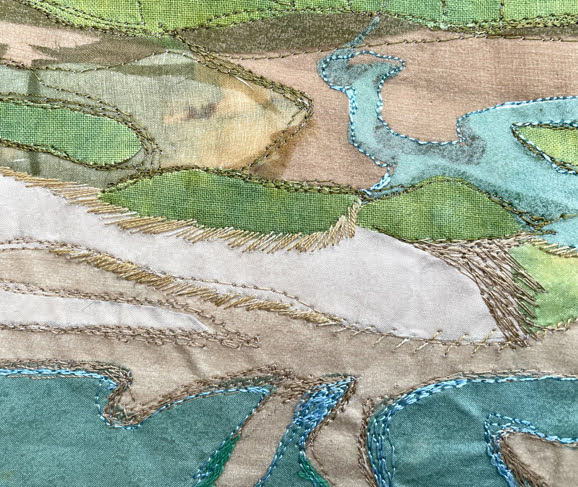 How lovely it was to have Susan D'Souza at our meeting to tell us all about her work.
Susan gave us an introduction to her work which explores nature through details of plants, gardens and landscape images.  Her process involves taking photos from nature and then abstracting images and creating layers with dyer or hand painted fabric applique techniques using stitch to highlight detail and texture.
Susan's work often incorporates natural, found, and sustainable materials and plant-based dyes highlighting the fragile relationship with nature, she likes working slowly, recording the changes in the seasons.
Susan brought many pieces of her work which included Batik and natural dyes.
Susan has a Batik and resist workshop on the 3rd July at Prairie Gardens should you wish to learn a little more of her craft.
https://www.sussexprairies.co.uk/event/batik-wax-resist-textiles-with-susan-dsouza/
Don't forget to visit her website for more information https://susandsouzatextiles.com/