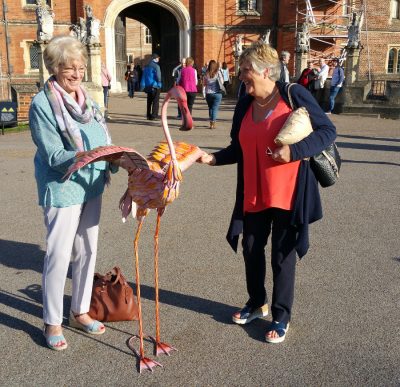 We have a new member – a flamingo! He joined us on our trip to the Royal School of Needlework, having decided that he wants to live in Carol's garden.  He may have revealed his name to Carol by now,  but if not then you could post suggestions here. Freddie or  Frederique were suggested.
Unfortunately we weren't allowed to take photos in the exhibition (some of the exhibits have been loaned by the RSN apprentice or student who created them and other pieces from the collection are used by the RSN on cards etc and subject to copyright).
In our own work, some prefer traditional techniques and others prefer more modern techniques, but everyone can admire the incredible workmanship of the pieces that we saw. Exhibits included a wide range of techniques, such as blackwork, goldwork and whitework. Some were historical ones from the collection and some are more recent. We had a talk on the history of the RSN, before being guided round the exhibits. Some of us didn't know that the EG was originally an 'offshoot' of the RSN. Gone are the days when to join the EG you had to submit a portfolio of work so the Guild could see if you were 'up to scratch' and would be allowed to join! Now the EG is so different; beginners are very welcome and everyone learns from everyone else.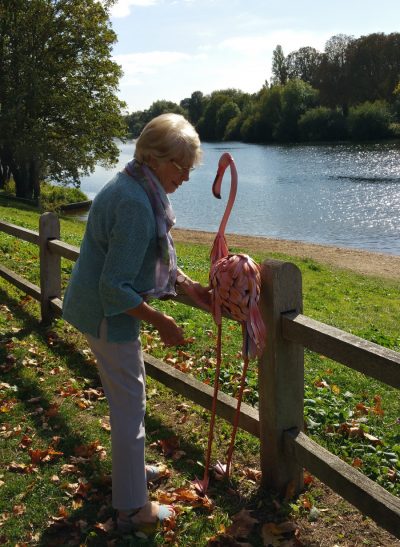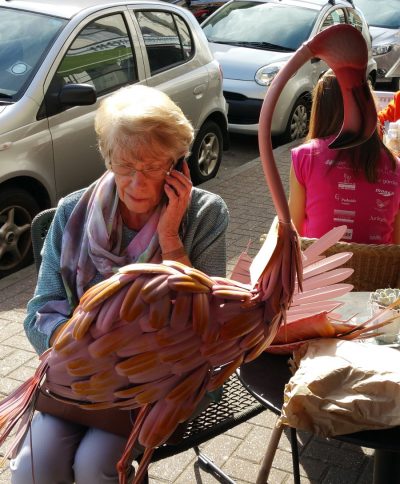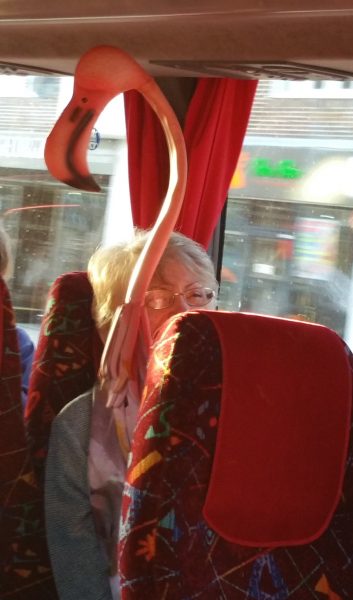 The flamingo is now spreading his wings in Carol's garden – see photo at the end. His name is Frankie – apparently there is a link to East Preston and the 80's. Frankie goes to Hollywood East Preston? No, I don't have a clue either. Answers on a postcard…