This month's wonderful talk by Michelle Carragher gave us a fascinating insight into the world of embroidery and costume design for stage and film. The samples of work that Michelle brought with her were a feast for the eyes, and were a wonderful inspiration to us all. Michelle kindly let us photograph some of her work to show on our website. The 'oohs and ahs' round Michelle's sample table after the talk said it all, as well as the length of time that people spent gazing at the work.
Michelle talked us through her early introduction to embroidery, from making childhood dolls clothes to a Fashion Design course and then textiles restoration. Restoration work gave her the experience of working quickly and sourcing specialist fabrics and threads. Quite often the piece was too frail to put into an embroidery hoop, so she developed skills in working on un-stretched backgrounds, which was invaluable later on when she worked on fine net and muslin, like the stitch sample on the left.
Initially her work on costume embroidery was on amateur productions and then as an intern on bigger films. Her first breakthrough came when she worked for Costume Designer Mike O'Neill, who spotted her talent as an embroiderer and gave her scope for stitched details. She graduated from washing the actor's socks, to being an integral member of the costume design and making teams.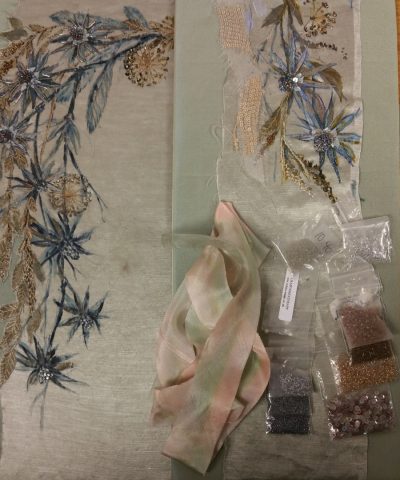 Michelle gave us a fascinating insight into how the costume designer and embroiderer and director work together on an initial concept, through designs and samples to finished item. Anyone who has done City and Guilds Embroidery courses will appreciate the detailed sketches and samples that Michelle brings with her to talks. The samples here were for an elegant Edwardian dress for the film about Gertrude Bell.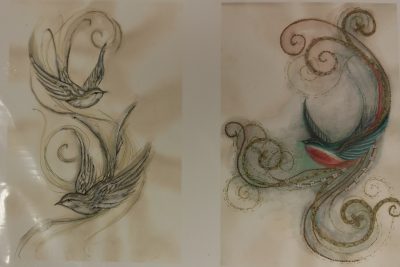 The delicate bird designs on the left show Michelle's artistic talents, and how an initial idea starts to take shape.
The samples below that were initial ideas for a dress made for Queen Elizabeth I, played by Helen Mirren, which was inspired by traditional embroidery of the time.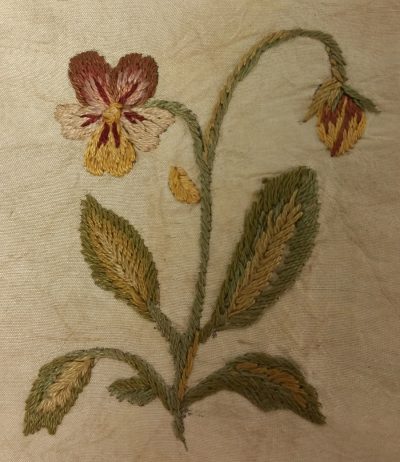 We learned about the painstaking historical research and attention to detail. It is a labour of love; for example, one dress had 350 hand-stitched embroidered roses stitched onto the train. We learned about how roughly these delicate embroideries may be treated, for example if they are in scenes of violence they may get torn or covered in blood. For this reason, some costumes require duplicate sets – sometimes as many as eight. This brought home the importance of the sampling process, and documenting each stage. We also heard about unpredictable aspects of this work; we saw a photo of exquisite embroidery on the neck of a dress for a historical drama, and then we saw the only shot in which it appears – shot from behind, with the actress fleeing away from the camera on a horse, with no sign of the embroidery.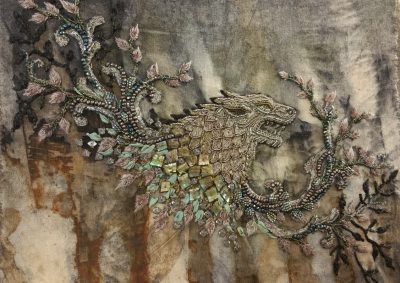 Of course, Michelle is now infamous for the amazing embroidery that she created on the costumes designed with Michelle Clacton for Game of Thrones. She showed us many samples, together with photos of the finished garments 'in action'. We were in awe of the creative designs, and the interpretations of fantasy ideas, and the inspired use of beads, gemstones, sequins, metal threads, stumpwork, ribbon work etc. Due to the high speed of production on a series like this, many embroideries were created as 'slips' on a separate piece of material and then applied to the garment later on, much like the embroidered embellishment of earlier centuries.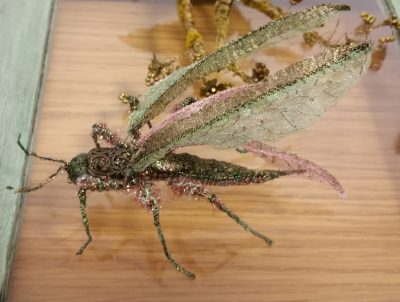 Michelle runs workshops, and anyone who got to see the exhibition this week by Dorking Embroiderers Guild will have seen their collection of fantasy beetles created on a workshop with Michelle recently. This photo doesn't do Michelle's creature justice, but wouldn't a workshop be wonderful! Thanks to Michelle for a really inspiring talk. We learned that she is working on a book – what a treat that will be when it comes out. I already know in June what I'd like for Christmas!