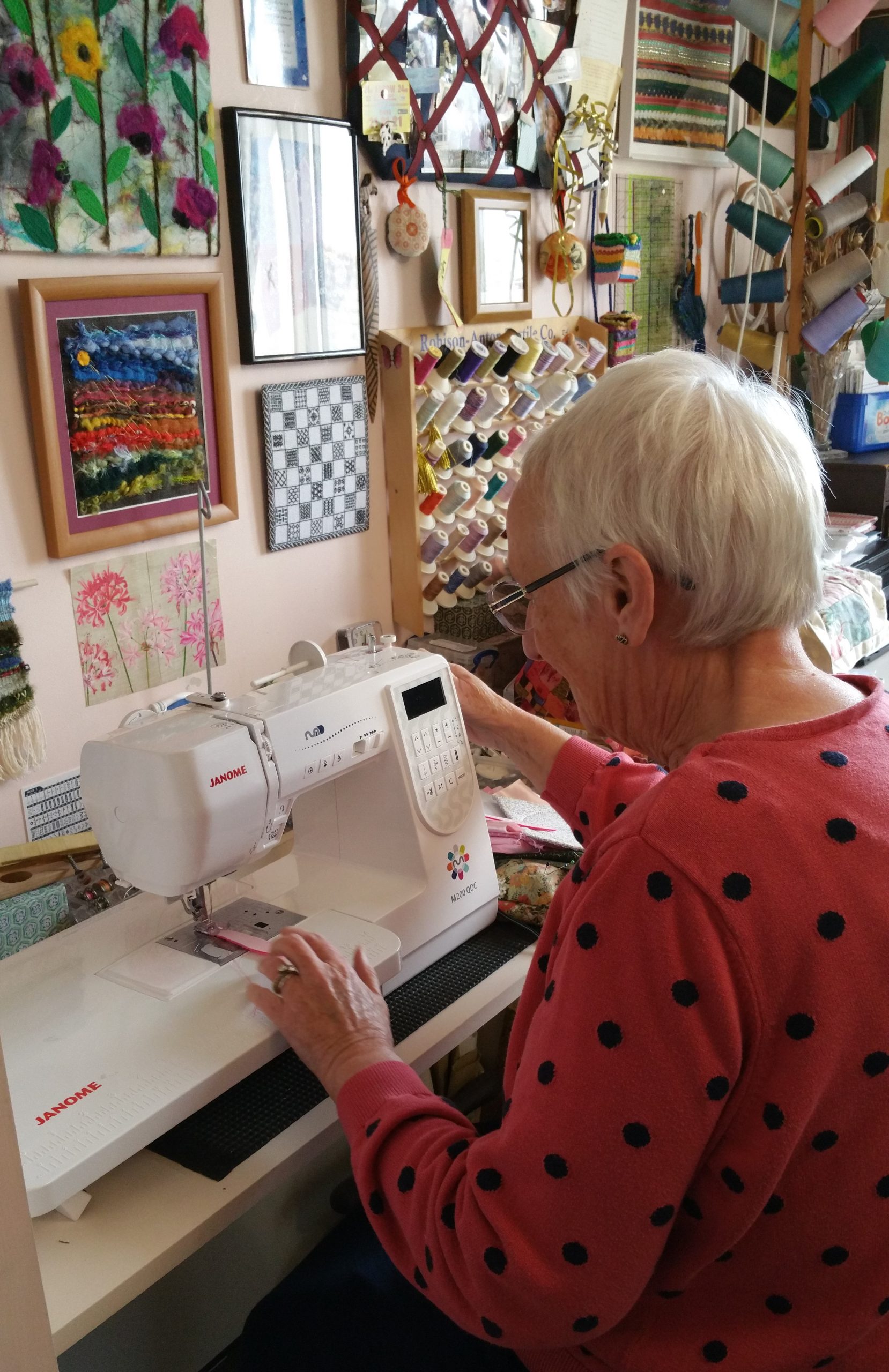 We were so sad to lose our friend and fellow-member Sue Bush. Linda Hoddy, together with our secretary Sue Parkinson, wrote a lovely tribute to Sue for our newsletter, but we wanted to share an expanded version here. There is so much to say about Sue, and so many memories and anecdotes. She was a big personality, and people naturally gravitated to her. She had many close friends in the group.
Sue joined Worthing Embroiderers Guild 25 years ago and stayed loyal and active throughout that time. She was an active member of the committee and could always be relied on to volunteer whenever help was needed, whether it be stewarding at an exhibition, teaching a workshop, or just making a welcome cup of tea. She organised volunteers to 'sit and stitch' at Parham House, and it was always a great pleasure to find yourself sharing a 'shift' there with her. During the time when committee meetings were held on Zoom, Sue would always sit in her sewing room stitching away during the meeting; listening intently and taking an active part in the meeting, but never one to waste a single moment as she had so much creativity waiting to be expressed.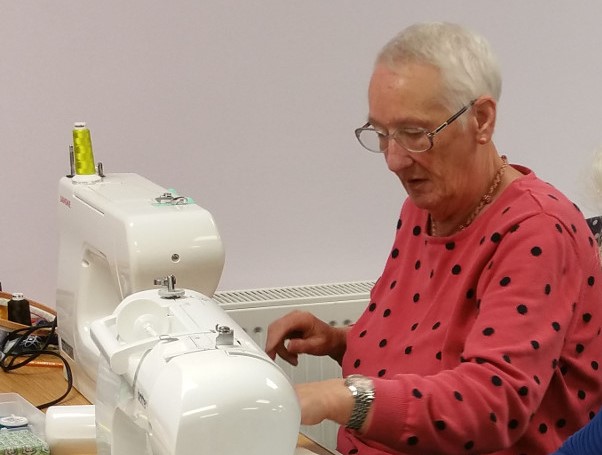 Sue was a regular member of the Traditional Embroidery group, and also threw herself wholeheartedly into the new Mixed Media group. We were all astounded at the energy that Sue put into her creative work;  when most of us would be pleased to produce one piece of work, Sue could be relied on to produce five or six. She was remarkably cheerful and resilient; for example, she approached the successive Lockdowns as an opportunity to do even more creative work. She loved to try new things, and she loved to share her enthusiasm with other people. At a recent meeting she inspired us all with her amazing collection of embroidered bags, boxes and books. She talked us through the many techniques she used in her work including beading, felting, weaving, patchwork, embroidery and canvas work.
Sue was born in Leamington Spa in 1946. She had a sister, Teona (Tig), a daughter Lucy and a son Ian, and grandchildren. Sue and her sister grew up in the Clent hills in Worcestershire. Seeing how much energy Sue had in her seventies, it isn't difficult to imagine how much energy she must have had a child. At her funeral, an anecdote in her eulogy described Sue falling off her horse as a child, dusting herself down, making no fuss and getting straight back on. That sounds like the Sue we all knew and loved: no-nonsense, no fuss: 'Just get on with it'. Sue didn't suffer fools…but at the same time she was incredibly kind and supportive, as well as fun, which earned her the friendship and respect of so many people.
Sue did various jobs over the years, some linked to her love of fabric and stitch. She worked for Liberty's haberdashery department, and she also worked for the designer Belinda Belville. Her role there was beading onto wedding dresses, including wedding dresses for the Royal family. Sue loved beading, and loved to teach workshops and projects on her favourite subject. She very kindly mended a beaded necklace for me:  it broke a long time after I made it and I had forgotten the technique, but Sue fixed it and returned it as good as new. I will think of her when I wear it.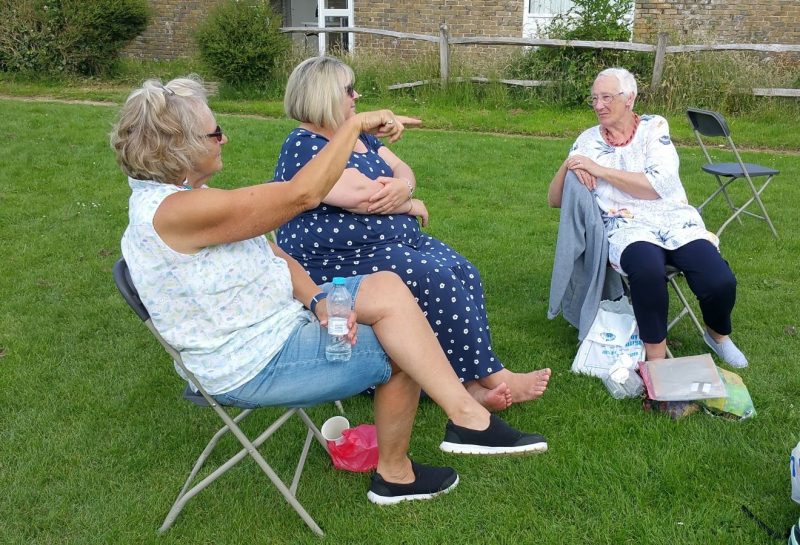 Sue met her second husband John in the departure lounge before a cruise. They loved going on cruises together, and Sue would make a sampler after each trip as a keepsake. Sue lost John in 2018. Even more than before, Sue threw herself into all the creative activities and friendships that sustained her. After being very ill a few years ago, Sue made a great recovery and seemed full of energy and zest for life, so it was very unexpected when she passed away so suddenly. She has left a 'Sue-shaped hole' in our group. We will miss her friendship, her willingness to share knowledge and skills, her incredible enthusiasm and her hunger to learn new things.
I'll finish with a prayer that was read at Sue's funeral. If you scroll down below that, you will find some examples of Sue's lovely work. If you would like to comment, or add your own contribution to this tribute, you are welcome to write in the 'Comments' box below.
The Needlewoman's Prayer.
God grant that I may see the stitch
Until my dying day
And when my last short thread is clipped
And scissors tucked away
The work that I have done lives on
That other folk may see
The pleasures I have known, Lord,
In the skill you gave to me.