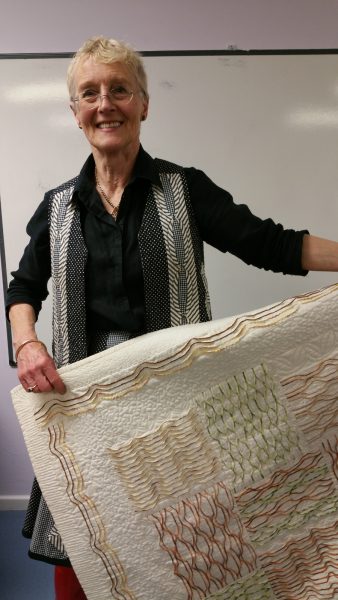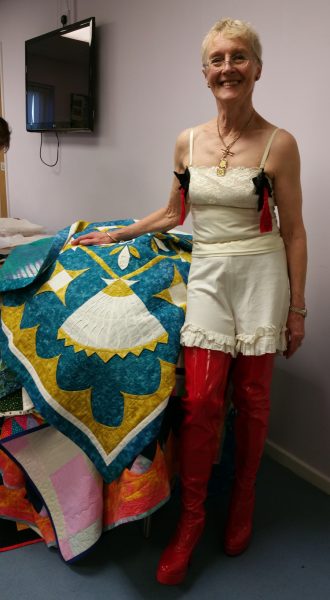 Jennie Rayment gave us an afternoon of real belly-laughs this month during her talk 'Twiddling and Fiddling'.
Jennie is well-known as a manipulator of fabric and a prolific quilt-maker, as well as an author and quilt judge. She could also have had a career as a stand-up comedian!
Jennie arrived wearing her own creations, which she had designed for a fashion-show at a quilting festival. One thing led to another, and through a series of hilarious anecdotes that I couldn't possibly try to replicate, Jennie gradually shed each layer of clothing during her talk, to reveal increasingly salacious stitched under-garments, until she was down to this layer, together with 'Kinky Boots'. There was another hilarious anecdote of how her husband's luggage was searched when he brought the boots back to the UK for her – and having failed to explain it to the customs official he just said 'they're for my evening job'. Even the Union Jack stitched on the posterior gave us a laugh (it was for an American audience); it was accidentally stitched upside-down, i.e. the international signal 'I am in distress'.
Another belly-laugh was her moment of realisation, during a talk to hundreds of people, that the name she had given a particular quilt might not have been wise: 'Totally tucked-up fan' (think about it).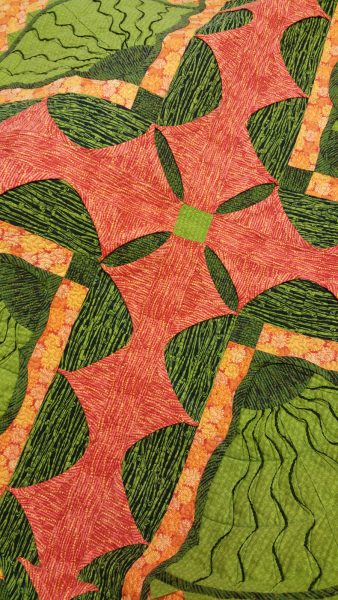 There were lots of lovely quilts to look at, like this beautiful one that was place over Jennie's mother's coffin during the funeral service, but was only just rescued in time when the undertaker mistakenly thought it was supposed to go into the grave.
Jennie gave out some really useful stitching advice, for example 'red wine is OK when you're stitching dark colours, but stick to white wine when you're stitching white'.
A great afternoon Jennie, thanks.