I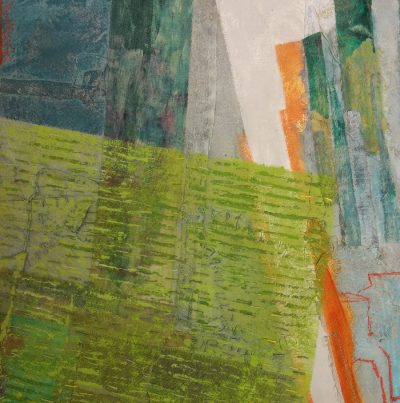 n her talk to WTEG this month, Jae Maries focussed on the use of colour in textile art. This was very timely, as members had recently started to think about the Branch Challenge, 'Take Two', which is to make a piece of work using just two colours. Jae emphasised how personal our response to colour is, and how it reflects the mood of the maker and has an impact on the viewer.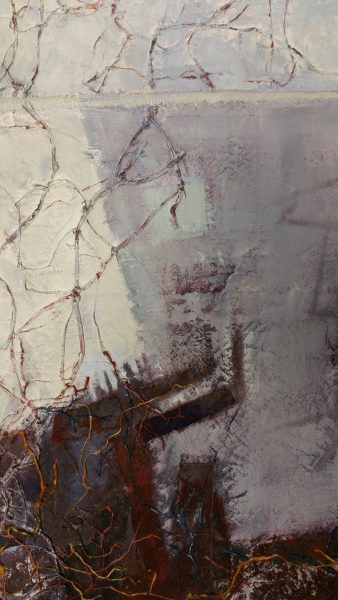 Jae spoke about how colour can create drama in a piece, with the use of contrast, and how this can affect mood. Jae said that she sometimes highlights some quite 'dark' issues in her work, for example knife crime and homelessness. She questions the assumption that embroidery has to be 'pretty'. This piece shows how Jae sometimes uses a very restricted range of colour, emphasising dark and light. This can add to the sense of closeness and distance of the subject, as does the use of cool colours to recede and warm colours to move forward.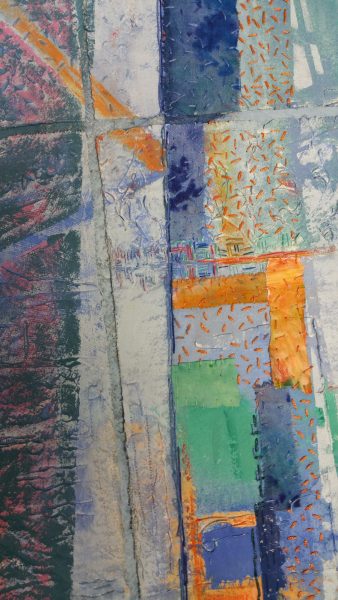 Jae uses interesting and unusual textures in her work, derived from her painterly background. She uses calico, which she sizes, then primes white; she then paints on top of that and adds textures and more paint. Sometimes stitch is quite dense, and sometimes it is minimal. This piece shows seeding in a contrasting colour, next to areas where the stitch has been painted over to leave a trace behind in the texture. The photo below is from the same piece, based on roads and rice fields in Vietnam. It shows the impact of an individual splash of a contrasting colour: the tiny splash of pink provides a focal point for the whole piece.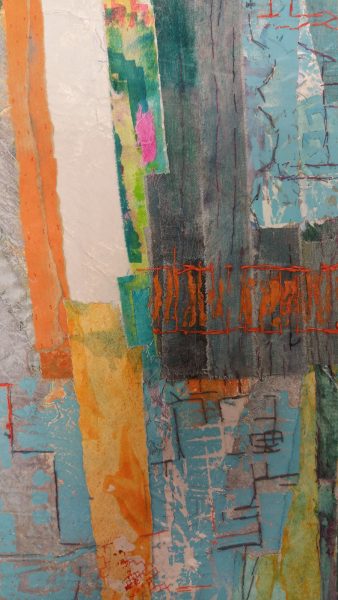 Jae acknowledged that many embroiderers want to create work that is figurative and restful, and based on more traditional techniques. Whilst not criticising that approach, she did encourage her audience to think about playing with colour in a different way and taking some risks. After the talk quite a few people were talking about the 'Take Two'  branch challenge, so Jae had clearly got people thinking.
(Jae's work is photographed and shared here with kind permission from Jae).