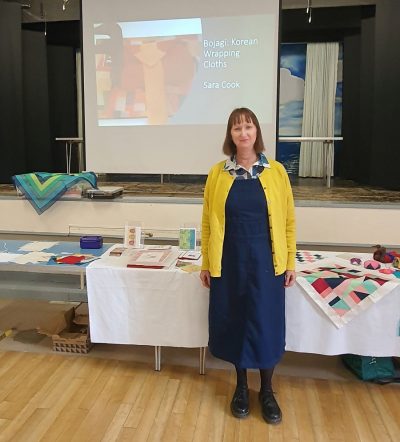 We had a fascinating talk this month by Sara Cook, on the Korean art of Bojagi. Sara is a quilter, tutor and quilting judge, who was drawn to this specialist technique after seeing an exhibition of Korean textiles. She was already an experienced quilter, and this particular technique caught her imagination straight away – so much so that she booked a trip to the Korean Bojagi Forum in 2016 (in Korea) to study it first-hand. Since then she has developed her own interpretation of this ancient technique and has taught the subject all over the world.
Bojagi originates from the art of wrapping, both for practical/functional reasons and also for decorative reasons such as giving presents. It was used for every-day use such as food storage, sometimes waxed to seal the food and keep it fresh. It was also used to store personal belongings, since space was at a premium and homes were cleared of personal items when they weren't in use. Thicker layered cloths were made for warmth, usually from silk as it is warm in winter and cool in summer. Functional items could also be very decorative, like the heavily stitched thumbles below (the second photo is a thimble-making kit that you can buy via Sara's website)

Sara spoke about the role of women in traditional Korean society. Women were expected to obey firstly their father, secondly their husband, and thirdly their son. Education was not permitted, and women could not leave the house without a male escort. When a woman married, she would leave her family home and would probably never see her family again, so the cloths made with her mother and sisters may have had particular significance in her new home. The giving of gifts was highly symbolic: for example ducks and geese, with blue and red to symbolise yin and yang.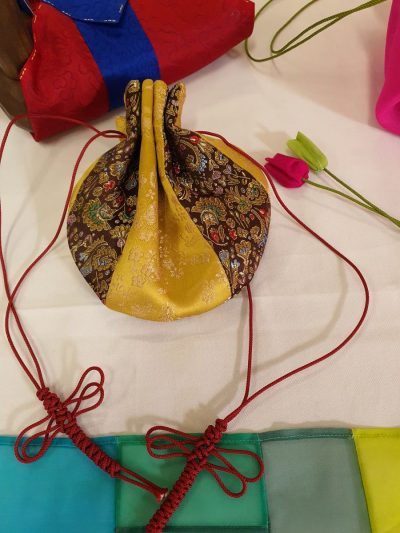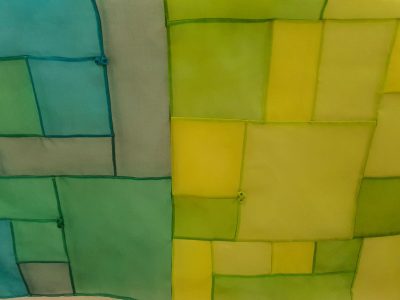 Korean cultural traditions changed significantly since occupation and the war years. The position of women has improved, but alongside that there ha been concern about losing cultural traditions as society modernises. Korea introduced an innovative cultural heritage programme. People with  traditional skills are appointed as 'national treasures' and are given subsidised studios that enabled them to pass on their skills. This has led to techniques such as Bojagi being kept alive across the world. Sara has developed her own style of work using traditional Bojagi techniques. It involves a very particular and precise type of seam, and is worked to be hung against the light so that it's translucent qualities are shown off to best advantage. You can see more of her work on her website at https://bojagiuk.com/