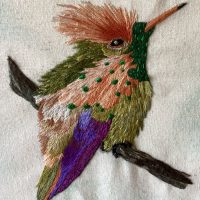 Welcome to Southdowns Creative Stitchers (formerly Worthing Tuesday Embroiderers Guild). We are an active group with a wide range of textile-related interests, from traditional hand-embroidery to contemporary textile art and mixed media. Members come from different areas along the Southdowns, from Bognor to Shoreham (hence our name). We normally meet in Worthing, which is central to our area. You are warmly welcome to join us whatever your interests and experience, whether you are a complete beginner, a professional textile artist, or anywhere in between. Everyone is welcome.
In April 2021 we formed a new independent stitch group, but our history goes back over 40 years when we started as a local branch of the Embroiderers Guild. Southdowns Creative Stitchers incorporates our origins in traditional embroidery, as well as sharing the fun of trying new ideas, techniques and products. There are usually four, five or six different events or activities that you can take part in each month, including talks, special-interest groups and activities, workshops etc.
Whatever anyone's particular interest, the key thing that we all share is a love of stitch and textiles. If you feel the same way, then you should feel right at home.