At our July meeting we were treated to a wonderful talk and a show of work by Georgina Bellamy. Georgina specialises in making creatures using her own special approach to metal thread work, which she calls 'sculptural goldwork'. Her technique produces fantastical three-dimensional creatures.
Hats off to Georgina, who rose to the challenge of giving her talk without the benefit of the branch digital projector, which we collectively failed to get working. Apparently cool and unfazed by this technical hitch, Georgina went on to deliver a very engaging and entertaining talk, which had her audience fascinated.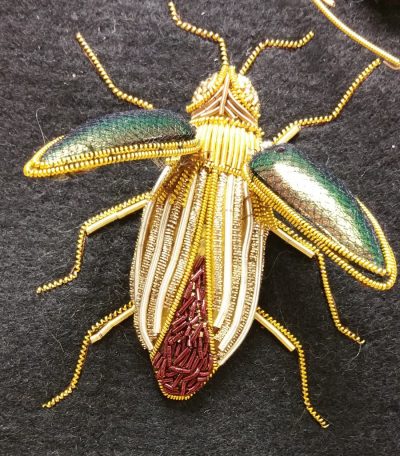 We learned about Georgina's introduction to stitched textiles, which came in her early twenties, after several other attempts at finding her direction in life. Having never really engaged with formal education, and finding herself as a single-parent working in an unfulfilling job, Georgina decided to make her young son an embroidered jacket. With no embroidery training at all, she produced a garment that made people stop her in the street and ask 'where did you get it from?' This was a significant milestone in her passion for stitch.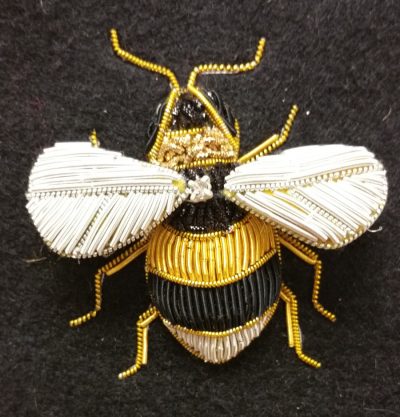 The other turning point was embarking on a City and Guilds Stitched Textiles (Embroidery) course. Georgina was the youngest in the class, and felt she benefited from the experience and encouragement of the older and more experienced members of the course. It was a natural progression from that to a degree at the London College of Fashion. Georgina only mentioned in passing (in response to a question), that at the end of her course she was chosen as one of the Embroiderers Guild Scholars. She had rather modestly not mentioned this during her earlier resume!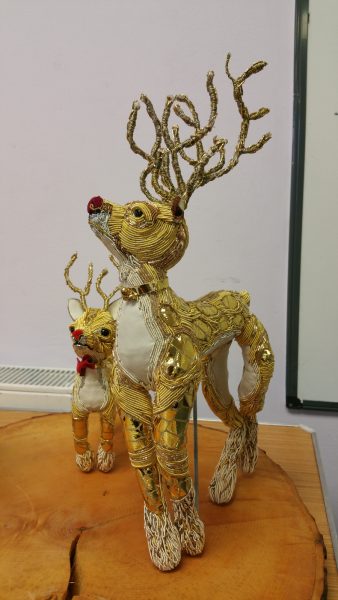 Georgina spoke passionately about the skills and experience of older embroiderers, and how sad it is that many of these skills are falling by the wayside. She spoke about the impact of long working hours, passive entertainment, and the wish to have everything 'instantly' rather than making things with patience. Of course there were many nods of agreement from the audience – most of us find it sad that people seem to have less time to help children learn the skills that we were brought up with. Georgina also spoke about how hand-stitch is not part of the 'mainstream' in fashion courses, despite the fact that so many high-end designers use embroidery in their designs. The emphasis is often on 'farming out' the embroidery, rather than it being taught as a skill in its' own right. Georgina had to be quite single-minded about focussing on hand-stitch throughout her degree course. She is very pleased she did so as this is now her main passion.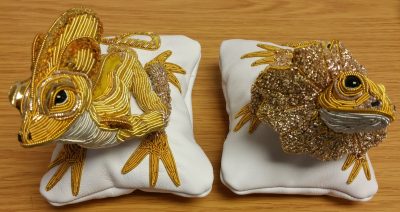 Georgina spoke about the history of gold-work, and the traditions that laid the foundation for gold-work today. She spoke about Spanish, Italian and Russian gold-work, as well as Indian gold-work. She also spoke about the status and historical importance of English gold-work ('Opus Anglicanum'). Her own work draws on these traditions, and she uses many conventional gold-work materials. However, she doesn't feel she has to be a slave to tradition, and she likes to use the traditional materials in her own way. Her 3 dimensional creatures are stitched on an organza backing which is then cut out and manipulated into a 3d shape. This requires some planning, as she needs to envisage how the flat shape will translate into the 3d shape once it is manipulated. In her teaching she tries to encourage people not to aim for 'perfection'. She worries that people often find gold-work intimidating, and she loves to encourage people to 'just have a go'.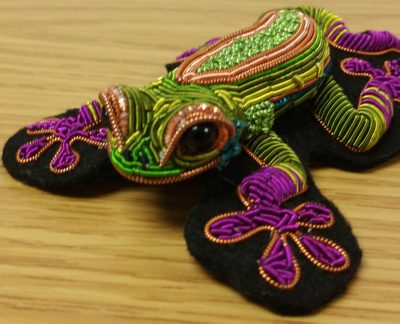 It was interesting to hear a talk from a young embroiderer who is at an early stage of her career. Georgina is passionate about trying to bridge the gap between children and teenagers on the one hand, and on the other hand more (ahem) 'mature' embroiderers like ourselves. In the middle, sadly, are working mums who have very little 'spare' time, and who often were not brought up to stitch or make things themselves. Georgina passionately believes that it is vital for the skills of the older generation to be passed on and she feels a responsibility to do what she can to help this process. Linked to the embroidery skills are other  life-enhancing factors, such as patience, absorption and pleasure. I think Georgina may have reached the record at our talks for the number of heads nodding enthusiastically in agreement!