The branch challenge was a great success, with 43 entries which were shown at our Christmas meeting. There is a news post with a few photos. More photos to follow – in the meantime I'll leave the details of the challenge here. Watch this space for the photos.
The committee have issued a 'branch challenge' to members, as a fun way to get lots of people stitching to a theme. Each entry is to be mounted on the same sized square artists canvas, and to be stitched in only two colours. Those are the only two guidelines.
The artists canvases are supplied (free) by the committee – if you'd like one, ask Rose. The plan is for all the entries to be shown at our Christmas meeting, and then we plan to put on a group exhibition in the town some time in early 2020. About 45 canvases had been given out by June (6 months ahead), so we're expecting lots of entries. We have included a few examples here of embroideries that members have already done in two main colours, which we hope will give some inspiration.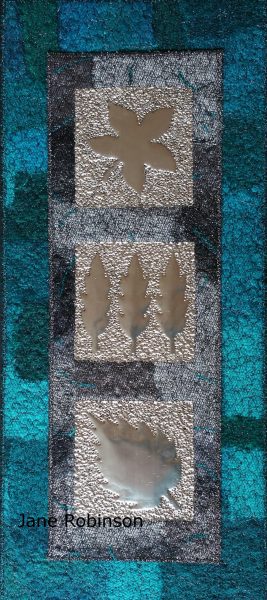 If you haven't started yours yet, please could you stick to two colours only, including the background. The closer we all stick to the guidelines, the better our resulting exhibition will look. We know that some people have started theirs already before the brief was clarified and a third colour has been used, for example on the background. No pieces will be excluded because of this but please can all new pieces stick to 'two colours, including the background'.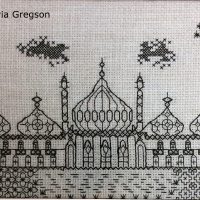 You could leave the canvas background plain white (making white one of your colours), or you could paint it in one of your chosen colours; or you could cover the whole canvas with fabric or embroidery. You could use black and white (or one colour on a black or white background). You could use one colour with splashes of a contrasting colour. You could mix your two colours together to make intermediate shades; or you could choose two closely-related colours.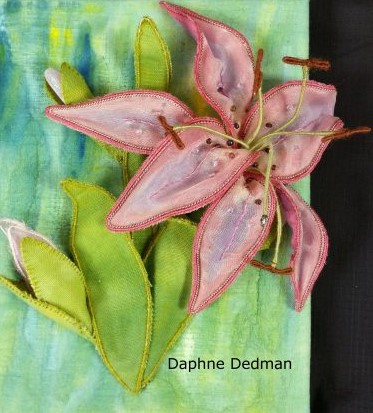 If you make something 3D, it needs to be fixed to the canvas in some way so that you are actually using the canvas. It can be designed to hang on the wall, or sit flat on a table. If you enjoy stitching but not designing, it is fine to enter something that you have stitched from a kit (please let us know, so that we don't accidentally claim it as your own design if we show it on the website!). We want them all to be anonymous, so please don't put your name anywhere on the front. At the Christmas meeting,  members will be invited to choose their favourite one; this will be done as a fund-raiser for charity. We hope to represent all sorts of embroidery in the exhibition in 2020, and all of levels of experience. We hope that people seeing the exhibition will think 'I'd like to try that'.
Do give it a go!