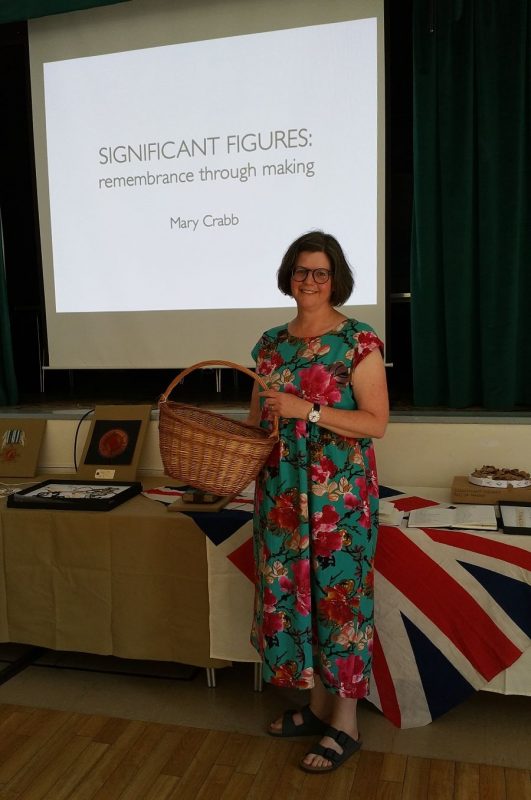 Mary Crabb gave an interesting and thought-provoking talk at our August meeting, called 'Significant Figures'. As well as appealing to embroidery/textiles enthusiasts, this was a moving talk that reflected the themes of loss and remembrance. Mary is a weaver and basket-maker, who was inspired to create a body of work to honour her grandmother's first love, Cecil, who died in France in 1915 very soon after lying about his age in order to enlist.
Despite an apparently happy marriage later on, Mary's grandmother always remembered her first love, Cecil, referring to him as 'my Cecil'. She kept a postcard on her mantlepiece, with Cecil's photograph on one side and some brief notes on his life on the other side. Mary's work became a mission to honour Cecil's life and to understand the way her grandmother kept his memory alive. Part of Mary's journey involved visiting places associated with Cecil; for example on the 100th anniversary of his death Mary visited the beautiful cemetery in France where he was buried, where she placed a posy in his grave.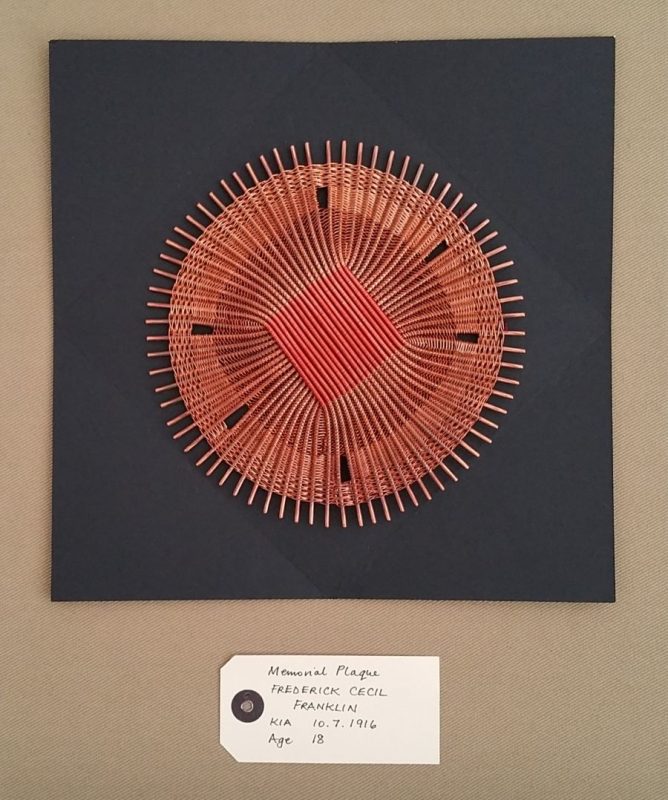 Mary decided to create a memorial plaque for Cecil, using her twining skills. This was created in copper, and the design is a mathematical creation based on the number 18, due to the 18 years of Cecil's life.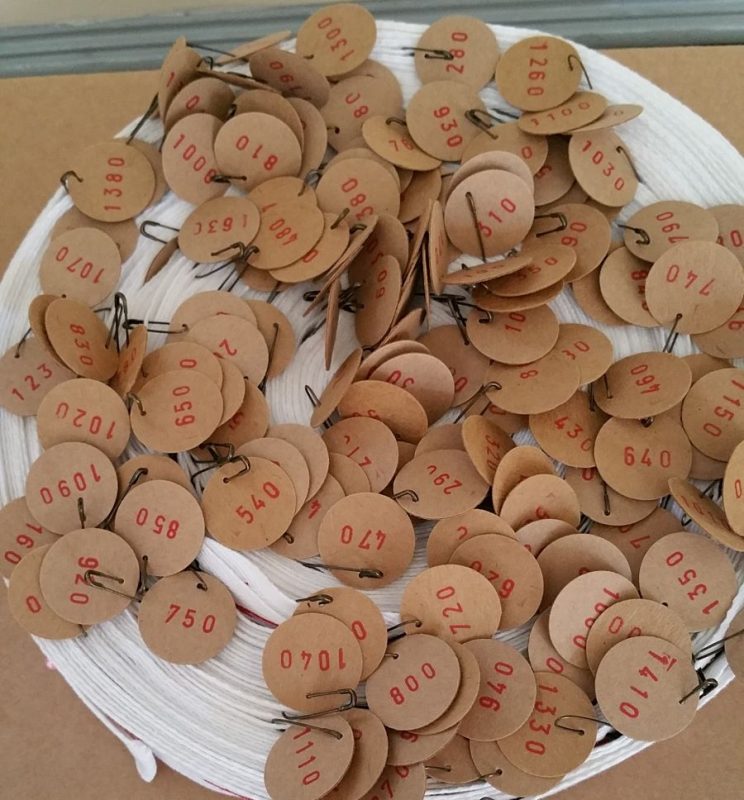 Mary visited Cecil's school, where she was shown a roll of honour of all the old boys of the school who had gone to war, and she learned that 255 did not return. This inspired a new piece of work, a reflection on the real cost of war in the loss of young life. Mary's mathematical mind came to the fore in this project: she created a very long line of stitched white tape, on which she embroidered lines (like a school register) with an 'up' arrow for those who went to war, and a 'down' arrow for those who didn't come back. Each boy had a number in the book, and for each one who didn't come back Mary made a 'dog tag' that she attached to the tape. Each tag represents a young man from the school who didn't return. Cecil is number 481.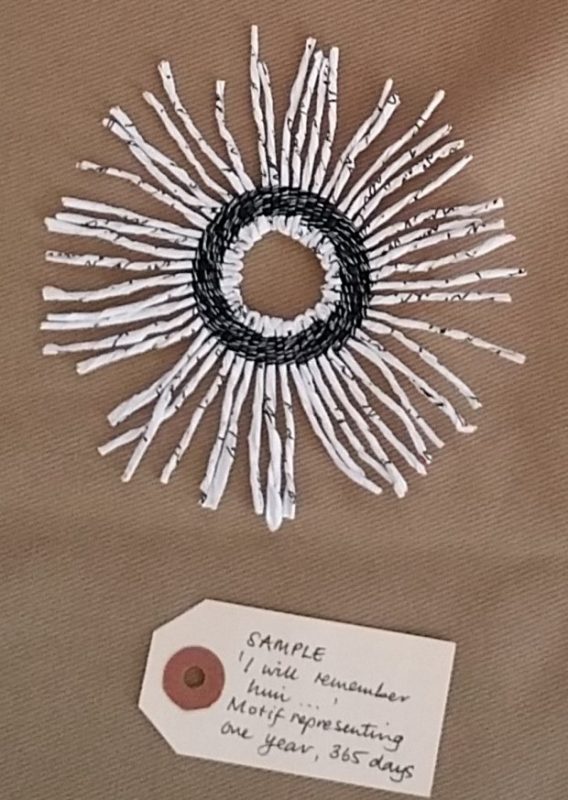 Mary was always very moved by her grandmother's love and loyalty. She created a piece of work that reflects this. She painstakingly wrote the text of her grandmother's postcard onto white paper, time and time again, then twisted them and made them into many individual medallions. Each medallion represented all the days in each of the years in which her grandmother had remembered Cecil; presented together on a large wall, they represented the decades. You can see a photo of the whole installation on Mary's website.
Judging by the intelligent mathematical question asked by someone behind me in the audience (you know who you are!) other people had a better grasp of the mathematical concepts behind Mary's work than I did. However, Mary's talk appealed on very different levels, including the intricacy of her work and the historical context. It was fascinating to hear about the way her grandmother honoured Cecil's memory for so many years. It was interesting to hear how such a big body of work can be inspired by one idea, in this case the lifelong remembrance of a lost love. To see more of Mary's work, and the courses that she offers, go to https://www.crabbbaskets.com/