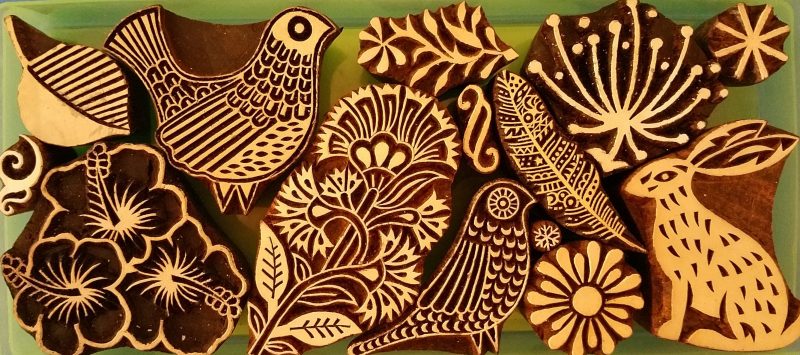 Every once in a while, something happens that makes you feel really good. It is especially heartening when that something good has grown out of something not-so-good.
You may have heard that Colouricious, the company who sold Indian print blocks and did print block workshops, sadly went into liquidation.  The owner, Jamie, recently advertised on FB that she wanted to give away her teaching materials to people or groups that could make good use of them. She is re-training as an art therapist and plans to volunteer at an orphanage in Costa Rica. Rather than sell off her print blocks, she wanted to give them away, 'to spread some happiness around'. How nice is that! I contacted her and explained that we are starting a new group having lost all our funds to the Embroiderers Guild, and she thought we would be good recipients for some of her things. My husband and I drove up to meet her in London, and Jamie stuffed our car to the roof with lovely goodies.
I took the most child-friendly craft materials and haberdashery to The Treasure Basket Association, a local Worthing charity who provide play therapy. They also send out craft 'treasure baskets' for children who don't have much to do at home in the holidays, and run craft clubs for children. This is a great charity that I would love us to support in the future in some way if we can.
That leaves a lovely stash of goodies for Southdowns Creative Stitchers. Jane Baskerville is now storing lots of things in her garage on our behalf, which can be used by any of our groups or workshops. This includes fabric paints and other textile and mixed media products, sponges, drop-cloths, Angelina fibres, coloured transfer foil and all sorts of other scrumptious things – too many to list here, but they will be available for you to play with if you come to our groups and workshops.
There is an amazing collection of print blocks. We plan to keep about 4 or 5 trays of assorted designs for use by SCS members, and we will sell others to raise funds (I did check that Jamie is OK with us selling some). Some are lightly used, but they are in good usable condition. We will be selling those individually with prices ranging from £3 to £15 based on their size or complexity. There are also some beautiful brand-new boxed sets of print blocks which we will sell as full sets. We are offering them to members first, after which we will advertise them on ebay at full price. There is a new 'sales' page on this wesbsite, where you can see photos of the box sets and prices. If you would like to buy anything, contact Jane Robinson directly if you have my email address already, or send a message via this page.
There are also lots of other items from Colouricious that we will offer for sale to members. These include fabrics, haberdashery items, paper patterns, patchwork and quilting patterns, threads etc. We plan to hold a 'garden sale' for members. It will be at fairly short notice, so that we can catch a good weather forecast. Members will get an email a few days in advance. We will ask people to say what time they're coming, so that we don't have more than 6 people in the garden at once and we can socially distance. If you're not comfortable with mingling in a group yet, you are welcome to come over and look at the things on your own – I can bring them out to the garden for you to have a good rummage (East Worthing, near the hospital). If you're not venturing out at all yet but are interested in a particular kind of print block from the list below, get in touch (via a message at the bottom of this post) and you can choose from  photographs. They can be posted, or if you are in Worthing  I may be able to drop them off to you if I'm passing.
Individual print blocks – too many to list in detail!
Elephants, Paisleys, Spirals, Birds, Plants, Flowers, South American designs, Tiles, Circles and squares, Indian designs, Geometric, South American designs, Tiles, Angels, Christmas trees, Snowflakes, Nativity Scenes, Hearts, Scripts.