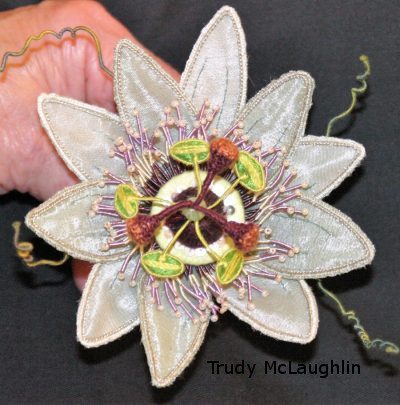 It often strikes me what a lovely overlap there is between gardening and embroidery. It's the month for wandering round beautiful gardens, smelling the roses and soaking up inspiration for our stitching.
'It is the month of June,
The month of leaves and roses,
When pleasant sights salute the eyes
And pleasant scents the noses'.
(Nathanial Parker Willis)
If you read this in time, there are still 4 days when you can catch the lovely exhibition of embroidery at Nymans Gardens by Dorking EG Branch, in which all the work is based on the flowers and plants of Nymans. It's open until Friday 14th; if you read this in time, it's well worth the trip so do try to go. It's the perfect month to visit the Nymans rose garden too.
Our most recent meeting was our 'Members Day' when we spent the whole day together chatting and stitching, and sharing lunch. We had a wonderful talk by Eileen Blaney on the history of the branch. Eileen has very kindly agreed to write up the notes for her talk so that it can be added properly to the website, together with photos, so I won't try to summarise her talk here. 'Watch this space' as they say! Many thanks Eileen for a very interesting and entertaining talk.